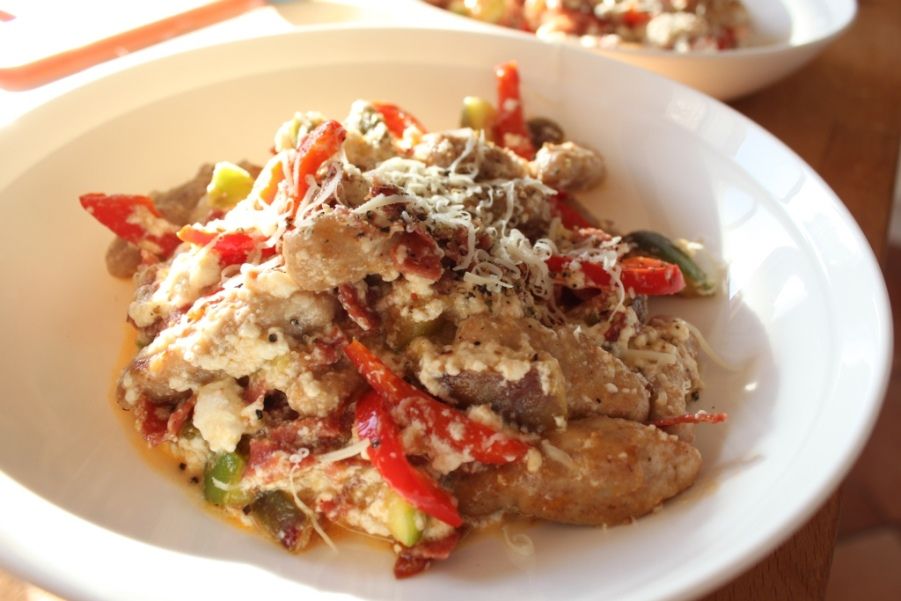 Being known as 'the cook' definitely has some advantages. And the number one advantage is that sometimes people give me ingredients. Often homegrown ingredients. Having some farm-fresh eggs or backyard tomatoes because they are in season is so awesome. And one free thing that I will never get sick of getting is fresh figs. Figs are one of those things that I love – but never actually buy. So I don't tend to have them very frequently. So when I was given a handful of figs unexpectedly the other day, I was so stoked. They were my first of the season! Coincidentally, a picture of salted caramel fig trifle came up in my instagram feed that same day and I was drooling, but when I was given the figs my mind was already fixed firmly on what to cook for dinner that night.
I am one of those people that sometimes go for the 'value-size' option for something, not remembering that there are only two of us eating most nights. So when I saw that I could get twice as much ricotta for only $1 more…I went with the big tub. And after making lentil ricotta patties two nights in a row, and a zucchini and ricotta 'risotto' inspired by a pasta in the Wahaca cookbook I got for Christmas…I still had some left. Figs and ricotta are already a classic combination, so I figured they could make a good pasta sauce. Add some salami for salt and kick, defrost some cauliflower gnocchi and I had an amazing summer pasta ready in less than half an hour.
Fig Salami and Ricotta on Cauliflower Gnocchi
200g thinly sliced salami, roughly chopped into 1cm squares
1 medium red capsicum, thinly sliced
4 figs, roughly diced
1 cup ricotta
Enough gnocchi for two people (I used this recipe which I had pre-cooked. If you buy it packaged, you'll need to follow the package cooking instructions first)
Pecorino, black pepper and lemon zest to serve
Heat a frypan to medium high heat and add the salami, stir to separate the bits and help it render out some of it's oil. Add the capsicum and stir fry this with the salami for about 5 minutes until it starts to soften.
Add the gnocchi and figs and stir through to coat in the oils. Cook for another 5-10 minutes or so until the figs become a little jammy. Add the ricotta and warm through – approximately 2 minutes.