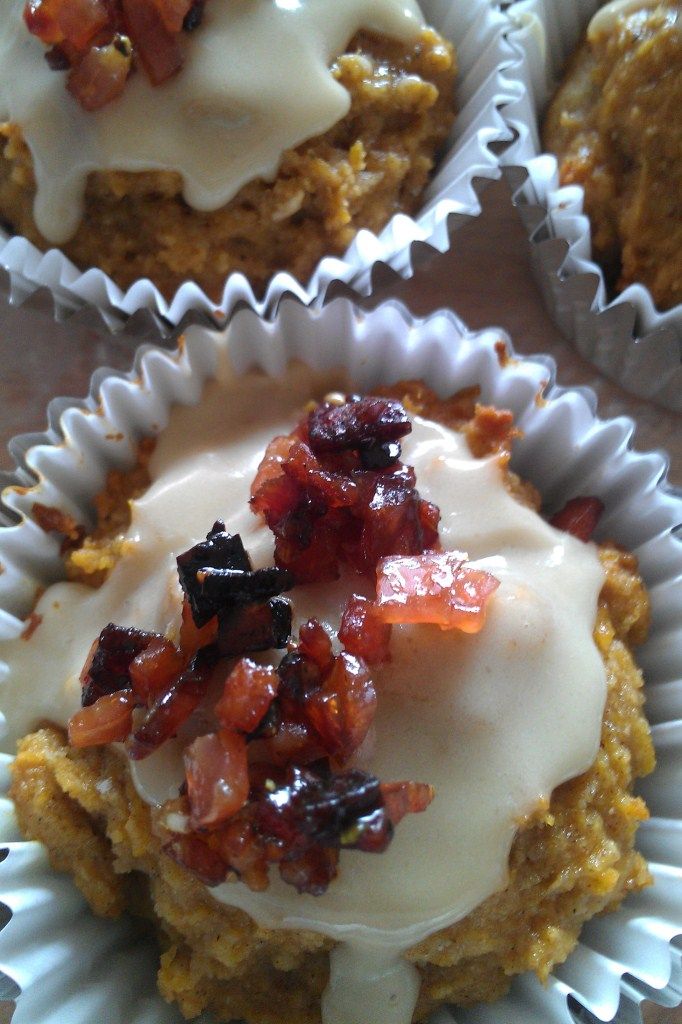 It was recently my birthday, and given there's not currently an actual law allowing me to not be at work and still be paid…I thought I would at least make sure I had a decent breakfast. I may have stated on a few occasions that breakfast is my favourite meal of the day. I often eat breakfast at my desk at work, as I get in pretty early, and so I wanted something different for birthday morning. Something delicious. And something easy to prepare and eat. Which meant I needed something with maple syrup. With bacon. And something I can just pick up and chomp on. This has the benefit of being pretty darn healthy, too. Wholemeal flour, pumpkin, greek yoghurt, no extra butter or oil and no processed sugar. Until you add the icing, anyway. And bacon doesn't count as being bad for you. Especially not on your birthday.
I cross my fingers that one day, Melbourne Cup Day becomes an Australia-wide public holiday so that every time it falls on my birthday I get a day off work. Until then, there are these muffins.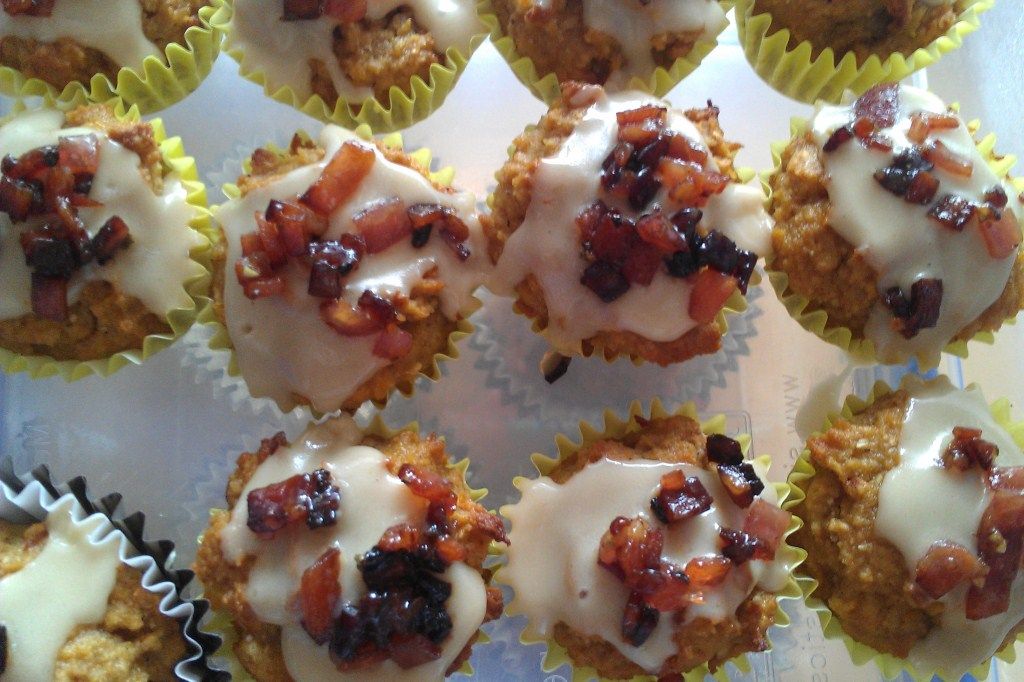 Pumpkin Muffins with Maple Icing and Candied Bacon
Dry
½

cup wholemeal flour
¼ cup coconut flour
2/3 cup plain flour
½ tsp baking powder
1 tsp bicarb soda
1 tsp ground cinnamon
½ tsp ground ginger
½ tsp ground nutmeg
¼

tsp salt
Wet
2 eggs, lightly beaten
1 cup pumpkin puree
½ cup Greek yoghurt
2 tsp vanilla extract
½ cup honey
Icing
5 tbsp icing sugar
2 drops aromatic bitters
3 tbsp maple syrup
1 tbsp milk (+ more if required)
4 bacon middle rashers, fat removed and very finely diced
3 tbsp maple syrup
P

inch cayenne pepper
Pinch black pepper
Fry the bacon pieces until coloured and slightly crispy. In a small bowl, mix the cayenne pepper, black pepper and maple syrup. Pour in the bacon, stir to coat well. Spread out onto a lined baking tray. Don't allow it to clump too much.
Preheat your oven to 350 F (175 C). Line a muffin tray with papers.
In a bowl whisk all the dry ingredients.
In a separate bowl whisk all the wet ingredients together until well combined.
Pour the dry ingredients into the wet ingredients and stir with a spatula until just combined. Don't over mix.
Spoon the batter into the patty pans.
Bake for 15 to 20 minutes or until golden on top. Put the bacon into the oven at the same time. Bake for 10 minutes or so, until the bacon gets crispier and the maple syrup gets a toffee like consistency. Allow to cool completely.
Allow to cool for 15 minutes in the tray before putting onto a rack to cool completely.
Whilst waiting for things to cool, sift the icing sugar into a separate bowl, then add the maple syrup and milk. Whisk until smooth. If necessary, add more milk to thin out. Add the bitters and mix very well. Be careful not to add too much bitters, you really only need 2 drops.