These are my husband's favourite biscuits. We both love the choc/chilli combination, so when I came across this recipe a few year's back on MlovesM blog, I gave it a go almost immediately. From first bite, my husband was obsessed. I've told you before that he takes biscuits to work for lunch - well, this is the biscuit that started it. He would call me from work and claim I hadn't given him any, because he'd eaten them all before lunch time. He would tell everyone that would listen that these were the most amazing biscuit in the entire world, that you'd have one and just constantly want more. That he was torn, between wanting the wholed world to taste them, but wanting to keep them all for himself. So he came up with a compromise - you only get one.
Just before he'd give someone one of these biscuits he'd tell them he was going to give them the best biscuit ever, but you only get one. You will only ever get one. And that's all they ever got. So, if you want more than that, you'd best make them yourself.
These are best baked just until cracking point, that way when they cool, they are slightly fudgy on the inside and crisp on the outside. My husband told me to point out that these biscuits are also one of the few he's ever eaten that are best eaten cold, not warm from the oven. This last batch I made with spelt flour, to increase the nutritional value. I haven't used spelt much before, but have read that you need to be a bit more careful with it, so when mixing the wet and dry, do it gently and stop as soon as it's completely mixed. Taste, texture and cooking-wise, they were identical.
As a disclaimer, I don't necessarily think these are the *best* biscuit in the entire world, but they are in my husband's world and they are pretty delicious!
Mexican Hot Chocolate Snickerdoodles
(makes about 24)
1 and 2/3 cups spelt flour
1/2 cup cocoa powder (I use Cadbury Bournville Cocoa)
1 tsp bicarb soda
1/2 tsp cinnamon
1/2 tsp cayenne pepper
1/4 tsp salt
1/2 cup grapeseed (or other neutral) oil
1 cup white sugar
1/4 cup pure maple sugar
3 tbsp milk
2 tsp vanilla
Sugar coating
1/3 cup white sugar
1 tsp cinnamon
Preheat oven to 170C
Whisk together flour, cocoa powder, bicarb soda, cinnamon, cayenne and salt.
In another bowl, whisk together oil, sugar, maple syrup, milk and vanilla. Pour this mixture into the dry ingredients, stirring gently with a wooden spoon until just combined.
In a small plastic container or jar with a lid, combine the cinnamon and sugar and shake to combine. Your biscuits will be dunked in this, so if you can't use it straight from the container, spread it back out in a shallow dish. I always have a container of cinnamon sugar ready for making these snickerdoodles!
Roll dough into small balls, then gently flatten into discs around the size of the biscuits you want. Gently push one side of the disc into sugar coating. Then place sugar side up onto lined baking trays. They spread a little, so give them room.
Bake until the cookies have spread and are crackly on top, around 9-12 minutes. Cool, then eat!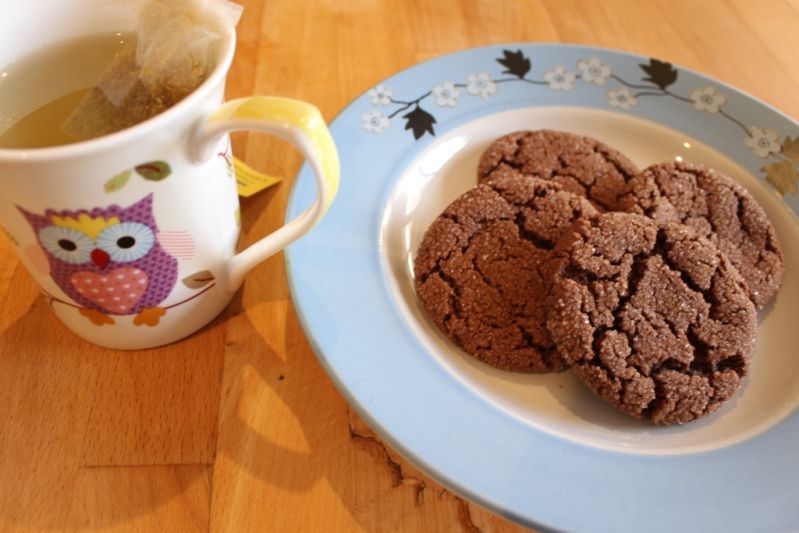 These also make amazing ice cream sandwiches!