As promised in my
Chocolate Chilli Dressing
post, I experimented with another one of the chocolate recipes I discovered on the Hershey website -
Potato-Parsnip Bisque with White Chocolate
. Autumn has well and truly set in and the nights are brisk and chilly. The days waiver between warm and cooler, but all in all I am starting to crave comfort foods. Soups and stews and roasts and pudding and chocolates. So I was excited to try this soup with white chocolate, combining two of those things! I'm a bit strange in that I like both dark chocolate and white chocolate. Milk chocolate I can take or leave. So the idea of some white chocolate melted through a parsnippy soup sounded perfect. I am eating a bowl of this for a late lunch as I type, ugg boots on, watching Mad Men. It's creamy and thick and peppery and perfect for this cooler weather. Truly comforted.
The initial recipe was a bisque, and passed through a fine china cap. But I wanted mine thicker, so I skipped this step. Not to mention that I don't own one of those. It also called for heavy cream, but I wanted it to be a bit healthier, so I added a tin of white beans for extra fibre and used milk. I served it with some crispy bacon bits, but I actually would've preferred some crispy fried chorizo or salami bits. The fennel in these sausages would've taken it to another world of yum!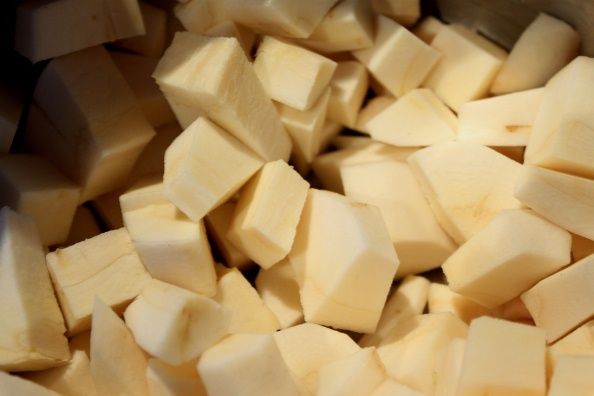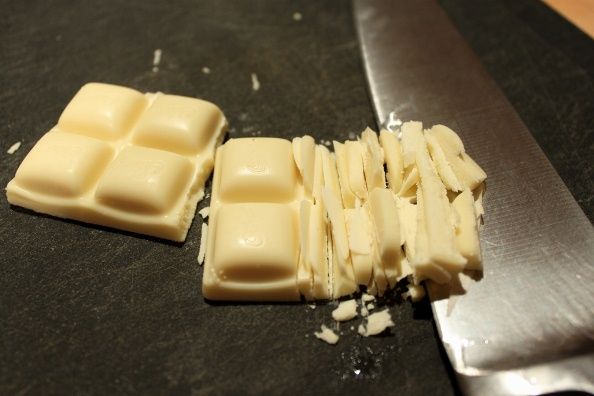 Parsnip, Potato and White Bean Soup with White Chocolate
serves 6
1 tbsp grapeseed oil
1 leek, quartered then finely diced
1 big clove garlic, diced
1/2 tsp salt
2 parsnips, peeled, then medium diced
1/2 cup sweet white wine
6 small potatoes, peeled then medium diced
750mL vegetable stock
250mL water
2 bay leaves
1/8 tsp ground nutmeg
2 cups milk
40g or so of white chocolate - 16 sqaures of Dream, finely cut
pepper, to serve
Place a medium pot over medium heat, add the oil and allow to heat. Add the leeks, garlic and salt. Allow to cook until the leeks become translucent. Add the parsnips and mix well, coating in the leeks. Add the wine, stir it through then reduce it by half.
Add the potatoes, stock, water, bay leaves and nutmeg. Turn the heat up, bring to the boil, then reduce to a simmer. Cook for 15-20 minutes or so until the potatoes and parsnips are tender. Add the white beans, and cook for a further 5 minutes or so.
Turn off heat, allow to sit for 5 minutes or so. Remove the bay leaves. Using a stick blender, blend until smooth. Return to the stove top and heat to medium. Add the milk, stir through and allow to heat to just below boiling.
Add the white chocolate at this point, stirring carefully, but briskly to allow it to mix through completely. Taste for seasoning and adjust as necessary. Serve with fresh pepper.